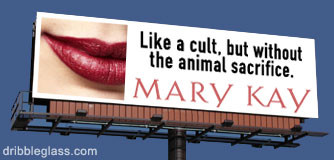 Many who have been involved with Mary Kay (and have since left), or their family members, have compared Mary Kay's predatory tactics to being like those used in a cult or "cult-like."
Persons (be they family members or friends) who question, express or show concern about financial decisions and debt, are often viewed as "unsupportive" or "negative" by Mary Kay zealots. Often, ex-Mary Kay women have described their experiences within Mary Kay as "brainwashing."
The following is information about cults in general (see also Commercial Cults here).
Related:
You can use these resources to determine for yourself whether or not Mary Kay Cosmetics and its tactics are cult-like:
Cult Warning Signs
Ten warning signs of a potentially unsafe group/leader.

Absolute authoritarianism without meaningful accountability.
No tolerance for questions or critical inquiry.
No meaningful financial disclosure regarding budget, expenses such as an independently audited financial statement.
Unreasonable fear about the outside world, such as impending catastrophe, evil conspiracies and persecutions.
There is no legitimate reason to leave, former followers are always wrong in leaving, negative or even evil.
Former members often relate the same stories of abuse and reflect a similar pattern of grievances.
There are records, books, news articles, or television programs that document the abuses of the group/leader.
Followers feel they can never be "good enough".
The group/leader is always right.
The group/leader is the exclusive means of knowing "truth" or receiving validation, no other process of discovery is really acceptable or credible.

Ten warning signs regarding people involved in/with a potentially unsafe group/leader.

Extreme obsessiveness regarding the group/leader resulting in the exclusion of almost every practical consideration.
Individual identity, the group, the leader and/or God as distinct and separate categories of existence become increasingly blurred. Instead, in the follower's mind these identities become substantially and increasingly fused–as that person's involvement with the group/leader continues and deepens.
Whenever the group/leader is criticized or questioned it is characterized as "persecution".
Uncharacteristically stilted and seemingly programmed conversation and mannerisms, cloning of the group/leader in personal behavior.
Dependency upon the group/leader for problem solving, solutions, and definitions without meaningful reflective thought. A seeming inability to think independently or analyze situations without group/leader involvement.
Hyperactivity centered on the group/leader agenda, which seems to supercede any personal goals or individual interests.
A dramatic loss of spontaneity and sense of humor.
Increasing isolation from family and old friends unless they demonstrate an interest in the group/leader.
Anything the group/leader does can be justified no matter how harsh or harmful.
Former followers are at best-considered negative or worse evil and under bad influences. They can not be trusted and personal contact is avoided.
[Emphasis added.]
Source: Cult Warning Signs.
The end justifies the means
Because they are doing very important things like god's work, or saving the earth, rescuing mankind, or simply doing 'The Work, members are led to believe that lying, cheating, and deceiving outsiders for money or getting them to come along to the group is justified.
[Emphasis in original.]
Source: Cult tactics – learn how they use mind control
Related:
Cults 101: Characteristics Associated with Cultic Groups
Concerted efforts at influence and control lie at the core of cultic groups, programs, and relationships. Many members, former members, and supporters of cults are not fully aware of the extent to which members may have been manipulated, exploited, even abused. The following list of social-structural, social-psychological, and interpersonal behavioral patterns commonly found in cultic environments may be helpful in assessing a particular group or relationship.

Compare these patterns to the situation you were in (or in which you, a family member, or friend is currently involved). This list may help you determine if there is cause for concern. Bear in mind that this list is not meant to be a "cult scale" or a definitive checklist to determine if a specific group is a cult. This is not so much a diagnostic instrument as it is an analytical tool.
The group displays excessively zealous and unquestioning commitment to its leader and (whether he is alive or dead) regards his belief system, ideology, and practices as the Truth, as law.
Questioning, doubt, and dissent are discouraged or even punished.
‪Mind-altering practices (such as meditation, chanting, speaking in tongues, denunciation sessions, and debilitating work routines) are used in excess and serve to suppress doubts about the group and its leader(s)
The leadership dictates, sometimes in great detail, how members should think, act, and feel (for example, members must get permission to date, change jobs, marry—or leaders prescribe what types of clothes to wear, where to live, whether or not to have children, how to discipline children, and so forth).
The group is elitist, claiming a special, exalted status for itself, its leader(s) and members (for example, the leader is considered the Messiah, a special being, an avatar—or the group and/or the leader is on a special mission to save humanity).
The group has a polarized us-versus-them mentality, which may cause conflict with the wider society.
The leader is not accountable to any authorities (unlike, for example, teachers, military commanders or ministers, priests, monks, and rabbis of mainstream religious denominations).
The group teaches or implies that its supposedly exalted ends justify whatever means it deems necessary. This may result in members' participating in behaviors or activities they would have considered reprehensible or unethical before joining the group (for example, lying to family or friends, or collecting money for bogus charities).
The leadership induces feelings of shame and/or guilt in order to influence and/or control members. Often, this is done through peer pressure and subtle forms of persuasion.
Subservience to the leader or group requires members to cut ties with family and friends, and radically alter the personal goals and activities they had before joining the group.
The group is preoccupied with bringing in new members.
The group is preoccupied with making money.
Members are expected to devote inordinate amounts of time to the group and group-related activities.
Members are encouraged or required to live and/or socialize only with other group members.
The most loyal members (the "true believers") feel there can be no life outside the context of the group. They believe there is no other way to be, and often fear reprisals to themselves or others if they leave (or even consider leaving) the group.
[Emphasis added.]
Source: Cults 101: Checklist of Cult Characteristics
Additional Resources: