Former Employees Review Mary Kay: 'Horribly Mismanaged" And More
Former Mary Kay employees rip into the pink pyramid: "Gossip, backstabbing and drama are par for the course."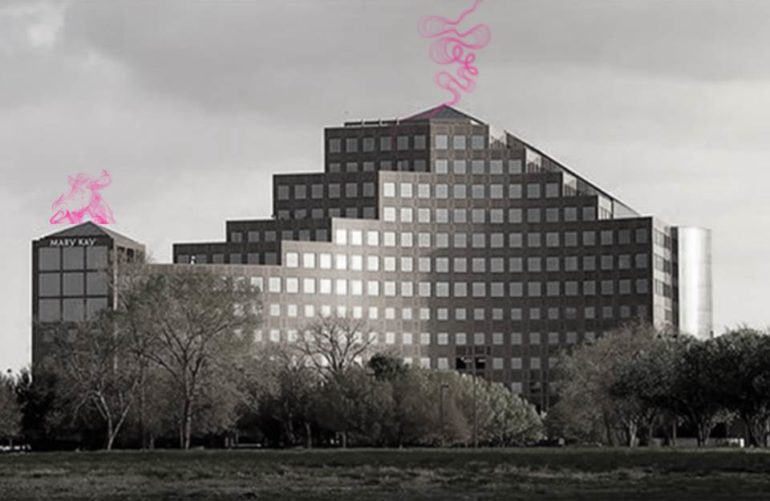 Often, it is through the eyes of former employees where one can see the true culture of an organization.
As a multi-level marketing company, the vast majority of people affiliated with Mary Kay Cosmetics are not employees of the company. Rather, Mary Kay "consultants" are independent sales people who sell the company's cosmetics for the "mothership."

[AdSense-A]
Although many of Mary Kay's consultants are deeply immersed in the "pink fog," the
actual
employees of the company are not subject to the brainwashing-like treatments that the consultants are.
It is through them—the actual employees—that one can look behind the pink curtain.
For example, on a review on the website Glassdoor, one former employee wrote:
Too much disingenuous "fake it til you make it" attitude and butt kissing in the corporate office. Worked with a handful of managers with integrity and good intentions. In my experience, most managers, directors and VPs (and above) "manage UP," looking out for their own self interest rather than looking out for their direct reports.

Gossip, backstabbing and drama are par for the course. Difficult to know whom to trust. Everyone is distrustful of HR. Culture has slowly dissipated since Mary Kay Ash's passing.
[AdSense-B]
This is similar to another former employee's review that
stated
, "
[t]he company used to be based on Mary Kay's foundation on which she built the company: God first, family second, career third. Unfortunately, since her death the company has become more focused on making money and less about treating employees airily.
"
Another former employee stated that Mary Kay, at least for its employees, "Doesn't live up to its culture and values."
Yet, another employee stated:
Out of touch and hierarchy-based to the extreme. Job titles are used not to define your place on the org chart but to signify your worth as a person. People are promoted through the ranks for 20+ years from "mail room" roles to senior leadership without proper development, which negatively shapes the culture and vision. And, good luck if you're a contractor… get ready to constantly defend your legal protections and then get pushed out when you refuse to work unpaid overtime, not be amenable to texts at all hours, etc. This is rampant, and some "contractors" have been there for 15 years with significant accountability and "full time" expectations but without benefits, PTO, etc. They may toe the line legally, but it's definitely a dirty way to treat people.
Related: Make-Up Remover? Former Mary Kay Employees Expose Low Morale, Hypocritical, 'Orwellian' Corporate Culture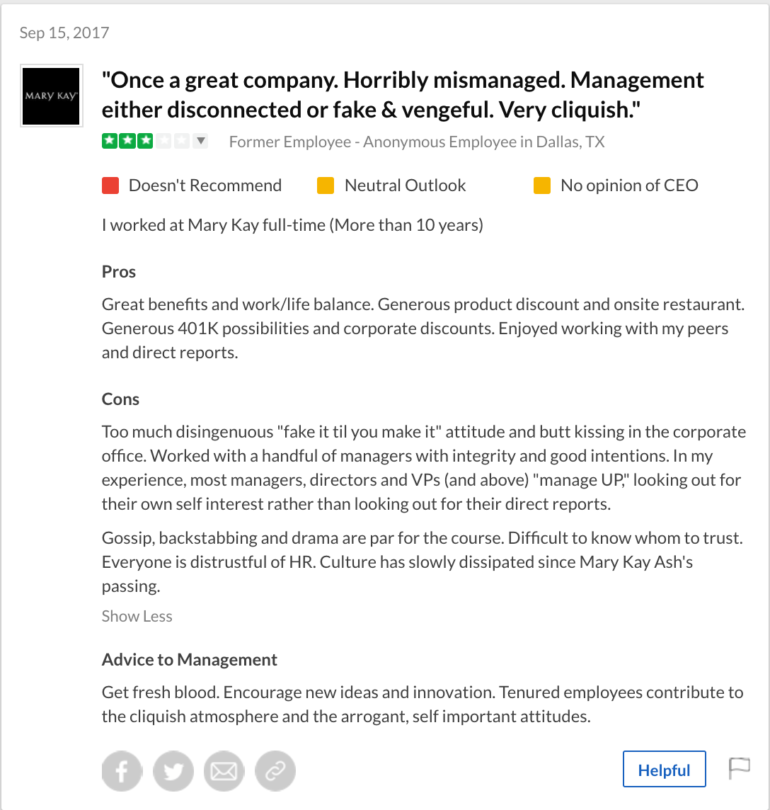 [AdSense-C]